About SERVPRO of Coos, Curry & Del Norte Counties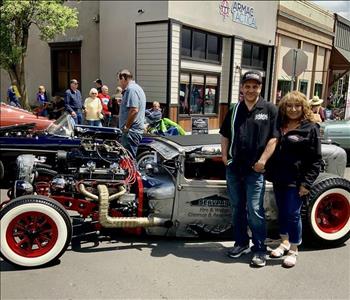 Steve Pinedo
Owners of SERVPRO of Coos, Curry & Del Norte Counties
Who we are:
SERVPRO of Coos, Curry & Del Norte Counties was established in 2011 by local entrepreneur Steve Pinedo and has developed a strong presence in its service territory of Coos, Curry and Del Norte Counties. Steve Pinedo has a long history in the restoration industry beginning in 1989 in San Diego where he started his first restoration and cleaning business. Steve's long history in the industry has given him an extensive amount of experience into the evolution of this industry and has allowed him to experience all the changes and developments of the industry firsthand. Steve Pinedo joined the SERVPRO team of owner operators in 2011 and has managed to acquire an amazing team of local residents to represent this great brand, with a mission statement and goal to becoming number 1 in our industry in customer satisfaction, job performance, and building of well trained professional crews.
Credentials:
Our team is IICRC certified for mold, water and fire restoration. With over 100 commercial and 10,000 residential jobs completed in Coos, Curry and Del Norte Counties we are a preferred vendor for most insurance companies in our area. We can work directly with your insurance company to save you time and energy. We also hold a general contractor's license so we can re-build your structure. We understand we are involved when it's not your best day, and we live up to the slogan "Like it never even happened." While we do not represent any insurance company, we can help you understand how the claims process works, communicate with your adjuster, and when you are ready for information we can happily explain the process to you. We have worked with and know most of the insurance claim handlers here locally, so you can trust you're with the right team when you call SERVPRO.
Achievements:
SERVPRO leads the restoration industry, and there's no question why. There is not job too big or too small. We have SERVPRO partners all over the nation, so wherever you are located, we have a team that can respond faster. We work closely with our local fire department, American Red Cross, and FEMA to always lend a helping hand when something goes wrong. With over 1,700 locations nationwide, you can trust the SERVPRO brand.
Contact Us:
Have questions? Call your local SERVPRO today at 541-808-2600, email us at SP10008@hotmail.com or find us on Facebook!
https://www.facebook.com/SERVPROofcooscurryanddelnorte/
SERVPRO of Coos, Curry & Del Norte Counties strives to make every customer feel comfortable and confident calling their local SERVPRO for help!
Insurance and Payment Information
For a stress free claims process, SERVPRO works with your insurance to help manage the insurance process and paperwork.
Certifications
AMRT - Applied Microbial Remediation Technician
ASD - Applied Structural Drying Technician
ECTP - Employee Certification Training Program
FSRT - Fire & Smoke Damage Restoration Technician
IICRC Certified Firm
RRRP - Lead-Based Paint Activities and Renovation
WRT - Water Damage Restoration Technician
Affiliations
Bay Area Chamber of Commerce - BACC
Coquille Chamber of Commerce - CCC
Institute of Inspection Cleaning and Restoration Certification - IICRC
Awards
SERVPRO Rookie of The Year
President's Bronze - for Outstanding 2013 Sales Performance
Director's Bronze- for Outstanding 2014 Sales Performance
Flying With Eagles
Profit Award
Director's Gold- for Outstanding 2015 Sales Performance
Sales Performance